Download Our Guide To a Modern K-12 Physical Security Solution
Download the NIC Partners physical security guide to see how a modern solution proactively keeps students safe.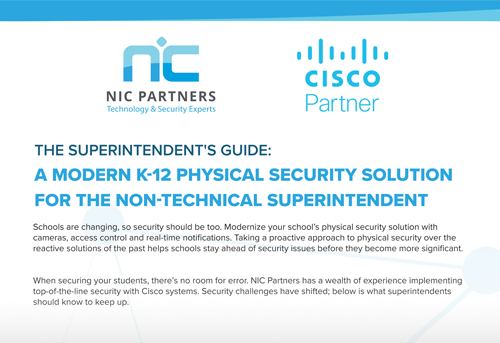 Modernize With Us
Modern physical security should be proactive because when it comes to securing K-12 students, there's no room for error. Technology should be used as an asset to create physical safety among schools with cameras, access control and real-time notifications.
See more about how NIC Partners keeps students safe before problems arise with proactive security in our downloadable guide.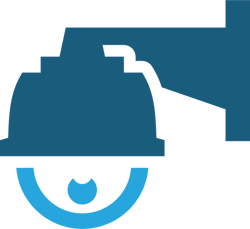 Smart Cameras
Learn about the seamless security of smart cameras that utilize the same powerful processors as modern smartphones.
Scalability
See how our cameras can be scaled from one camera to one thousand, depending on your capacity.
Cloud-Stored, Cloud-Managed
Eliminate the headaches administrators have dealt with for decades without cloud storage and management to fall back on, so you can sleep easy knowing your data is backed up and safe.
Smart Spaces
See more about how automated services reduce deployment, management, and troubleshooting time, allowing your school's IT team to focus on internal goals in our guide.
Smart Environments
Real-time monitoring gives your staff a transparent look into the objects and people on campus. We prioritize protecting student data and preventing unauthorized access to the network.
Access Control
Your access control must allow you to provide access to qualified individuals while keeping the bad guys out. Learn more about access control in our guide to modern physical security.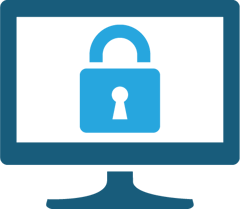 Hybrid Education
Learn how easy visibility and support allow teachers and staff to access school data and tools anytime and anywhere securely.
Real-Time Notifications
See how real-time notifications enable staff to stay ahead of security issues. NIC Partners helps schools design notification systems that are reliable, secure and automated so that students and staff can focus and feel safe on campus.
Protect Your School with NIC Partners
NIC Partners knows how to implement security solutions for K-12 schools successfully. Hiring physical security experts that prioritize student safety and provide solutions with a sense of urgency is vital.
Want to see what NIC Partners can do for your school's physical safety? Contact us.